updating in progress--yes, I'm planning some photos!: 20May98

Five weeks in Turkey, March 25th to April 29th, 1998

My sabbatical leave and my wife's accrued time off permitted us a major trip in the Spring of 1998. We feel lucky to have had this opportunity to travel. I'm writing this just a day after returning home to record some of my thoughts while fresh in mind.
Why Turkey?
We had narrowed travel down to either New Zealand or Turkey, both countries friends had visited and we had an interest in for some time. At some point someone said "you'll love New Zealand, it's just like Sonoma county." That was the turning point for us; why travel half way around the globe for so little change/challenge? Then Turkey became all we read about, doing research mostly on the internet. Turkey became increasingly more interesting as we read that it was the only Moslem country where non believers and women could enter mosques. It was a secular country where 99% of the population was Moslem, but eager to join the European Monetary Union. And what a richly interesting history just since WWI when one man, Ataturk, radically changed history and really created the modern Turkey. On top of this recent history, I read about this area's ancient history from Lycean to Greek and Roman to the great trade route, the Silk road.
Increasingly both my wife and I find ourselves drawn to the spiritual. Not belonging to an organized religion and even denegrading them often, we still find ourselves searching for the spiritual in human kind. I guess we see it as some essential glue or matrix by which people make sense of their lives. And it often produces wonderful art and architecture! Our trip to Europe in 1986 and to Bali in 1989 are now seen in hindsight as opportunities to experience first hand how religion shapes people's lives. I recall being moved in similar ways by two experiences on these trips: entering Canterbury Cathedral--humbled to insignificance when looking upward to its great interior height--and watching a Balinese woman making a banana leaf offering while sitting on the curb in Kuta, while motorbikes and diesel trucks roared past inches away, her concentration unaltered by civilazation. So these two first hand observations of Christian and, in Bali, animistic-Hindu religions made an impression which pointed me to in the direction of Turkey--a chance to experience a Moslem culture.
People
People! We were told that Turks were friendly, but we were amazed at how we made such good friends, "arkadashes" in Turkish, in every town.
Top on the list was Yuksel Hak, who, unknown to me other than our ham radio interest and email addresses, befriended us, took care of us and treated us like royal visitors. It was really nice to know I could contact my firend Yuksel in Istanbul if I had a problem while travelling. He treated us to our best meal in Turkey, at Beyti in Istanbul just a few nights before returning home and took us into his home meeting his wife, an artist, his daughter a university student and their toy poodle Daisy. We really enjoyed our ride back to our pension too when we talked about how he views being a Moslem in modern Turkey. Thanks Yuksel!

And Abraham, our Konya arkadash! After driving our first long day over the "first highlands of central Asia Minor", over the Silk Road, stopping in hans or caravanseries, we arrived at rush hour in downtown Konya, a bigger town than we imangined--500,000. Heading for the Mevlani museum, I drove right into the bazar getting lost and stuck with goats and carts wedging us in. And who shows up accurately assessing our predicament? Abraham, dressed in a shirt and tie offers to help guide us in perfect English, hops in and ends up taking us the the museum as a private guide without pay, his insists. We take him to a restaurant--his choice-- on a hill South of town for a wonderful meal and talk about growning up in this very conservative Moslem town. He wants to go to graduate school in America, I hope we can help him. And he too, has a carpet shop and hopes to sell us a carpet, but we never get to that business and he doesn't seem perplexed, just glad to meet us.

Aydin, a travel agent in Urgup: hip and worldly, aware of the Turkish viewpoint, savvy about the needs of the modern, Western tourist. We were lucky to find him. We were so naive he could have pointed us in several wrong directions. We trusted him and he gave us the best we could have done in Cappadocia: a private tour with a man who had grown up in the area and a solitary walk through ancient history in the Valley of the Doves. And free email service! Thanks, Aydin. If you ever go to Cappadocia, look him up.

Orhan, the shop keeper in Kas, whose passion for the history of the area inspired us.

Irene, the artist from Santa Fe, NM, who was working in Kas, but took time to take us to the best restaurant in town and travel with us to nearby Kalkan.

The amazing couple from Guilford, CT, Bob and Joan Handshumacher, who were sailing off to the Red Sea for 6 months.
Best Experiences
That wonderful walk, by ouselves in Cappadocia. Really felt part of the history there. The only place I connected with enough to sense the Earth. Deposited some of my father's ashes at a site I thought he would have liked. Called the site "Magic" and noted it with a GPS waypoint.

Driving on the Slik Road and visiting 2 of the many Hans constructed by the Seljuk's in the 1200's to promote trade.

Smelling the orange blossems and waking to the sounds of Peacocks at Olympos Lodge, our first stop on the Mediterranean.

Listening to Orhan, the engineer turned collector, speak with such passion about the cultural objects he collects in his shop, Nautica in Kas, and admiring his collection of antique nautical instruments.

Sailing near the Black Sea at Andalou Kavagi on the upper Bosphorous.

Getting lost in Istanbul and having the "polis" bus pick us up and take us to our destination.

Itinery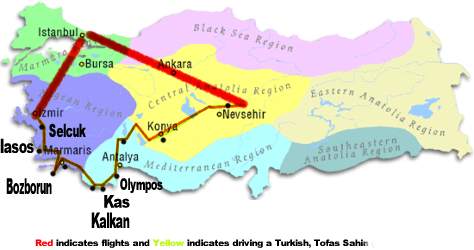 Mar26-31
Istanbul for six days and even though the weather was bitter cold, a Baltic chill, some said, always hovering around 3 degrees Celsius, we checked off the important architectural sites: Aya Sofia, Blue Mosque and Topkapi. We were surprised to see so many other tourists, German mostly, also seeing the mosques unheated and poorly lighted along with us. We never could see across the Bosphorous due to fog and overcast even though our hotel was quiet and located within walking distance of everything in the Sultanahmet district, was close to this shipping thoroughfare. We did see the Whirling Dervishes sing and dance in an unheated space and were pleasantly surprised to see whirling women in the group as well. The chaos when we arrived outside the airport was intense and reminded us of pictures of Russia or Eastern Europe, where we were!

Ap1-5
Flew to Kayseri on Turkish Airlines who waited an hour and a half apparently to fill the plane for a one hour flight. Greer was really sick the day we flew so we were anxious and crabby.

Minibus to Urgup, really glad we paid extra to have someone pick us up at the airport. Bags came in the dark and I was glad I had my pocket flashlight to find ours. Drive from Kayseri, our farthest Eastern point, into the Cappadocian night was wonderful. We could see stars for the first time in Turkey and I found the North star which grounded me. Four days at Esbelli Evi, a wonderful pension carved into the rock!
A wonderful tour of the churches carved into rock, badly erroding, made us wonder if we might be the last generation to see them. Solitary walk one afternoon made us feel like Jesus.

Ap5
Rented a car which smelled like an ashtray and drove to Konya over the silk road stopping at 2 Carrivansaries or "Hans" along the way, which were built in the 1200's as safe houses for merchants going to and from China and points East. Toured Mevlani's tomb with our new friend Abraham and took him to dinner.

Ap6-7
Drove to lake Egridir for 2 days. Nice to get out of busy, dirty Konya and back into the country. We noticed how the minaurettes on the smaller, country mosques were often more visually interesting having more tile work and spirals than those in cities. Observed Bayram, the closest holiday Moslems have to our Christmas, where the head of the house slaughters a goat. Greer videoed this as we vowed to become vegetarians. The Army commando base had the best real estate in the area. Met a really interesting couple who invited us to see them in Marmaris on their sailboat. They were preparing for a 6 month trip into the Red Sea with 100 other boats on the Eastern Mediterranean Rally.

Ap8-12
Drove to Olympos just beyond Antalya and lucked into the poshest place of the trip. First time we could relax a bit. Greer painted here and I caught my breath and read. We could have stayed forever here on the Mediterranean which to our surprise doesn't have any wave or tide activity. Saw the ruins of Olympos and very briefly tested the cold ocean water. This turned out to be the farthest point we touched away from home, just over 7,000 miles as the crow flies. We collected smoothe, marble stones from the beach near the old Lycean site.
We had to leave to be able to see our new friends in Marmaris on their sailboat "Wildwood." We could have stayed forever though.

Ap13-14
Off to Kas for 2 days meeting a mellow, American artist, Irene from Santa Fe and a wonderful shop keeper, Orhan, whose shop, Nautica was filled with antique nautcal instruments as well as susanis, camel decoratons, leather shadow puppets and all sorts of great stuff. It was his passion for the culture that most impressed us though. He was trained as an electrical engineer but said the "university of the bazar" called him to collect.

Ap15
Just up the road is Kalkan where we were to met a friend of Jack Perrin's, Halil Tufan. After tea we talked with his son, soon to be off for the mandatory military service, about cinema. He was a cinema major at Istanbul University. We enjoyed our new friends here, but were sorry to have left Kas so soon. Kas was just the right size for us and had much to recommend it.

Ap16-19
Long drive to Marmaris. Several abortive attempts to find the perfect place to stay finally led us to a great place with a kitchenette (shopped at Tansas supermarket!), near the local internet cafe. Connected with our new friends and spent some wonderful times chatting on their boat. Dr. Bob Handschumacher and his wife Joan impressed us with Atlantic crossings in their 40 foot boat. Netsel marina was huge with 750 boats mostly being readied for summer with nice, toxic paints. Ate well at the yacht harbor's restaurant an began to feel the presence of many more American tourists in this, the most Westernized spot of our trip.
Took the hydrofoil to Rhodes for the day (18th) and were taxied to Lindos, the most authentic looking Greek town on the island. Watched the windy Aegean meet the calm Mediterrean from atop a hill and were disappointed by the overwhelming tourist development here.

Ap20
Even modest Marmaris took its toll on us and we were glad to head back into the country, this time for tiny Bozborun. It was so small that we had to work to find a hotel open. Walked to Sabrina's Haus a very neat, high end and isolated pension, accessable only by boat, run by a German ex-sailor lady. Had a wonderful meal with her but stayed at our more reasonable hotel.

Ap21
Iasos . It was the drive to Iasos that was an adventure after we left the main highway, travelling through large farms maintained by big tractors, later the road turned into a dirt track. Little villages where the car barely fit through the buildings and men sat around drinking tea. We saw an anciet cistern at the top of a hill and there seems to be plenty of water here. The hills were covered by old olive orchards. The village of Iasos was small and funky but has a great ancient site with cows and goats grazing through it. We were alone at this special site and we made a prayer in the old Basillica on top of the hill. Our pension was run by a retired Turkish army officer who spoke perfect English and had been trained for a year in Missouri.

Ap22-23
Drove toSeljuk across flat country with brand new Las Vegas style hotels for Turks. Arrived in Seljuk and immediately went on a walking tour of Efes (or Ephesus) with a guide on crutches. He was very knowledgeable and had been a student in Berkeley--had a cel fone too! He showed us the origins of the Christian cross linking it to Greek letters. Efes was first a B.C. site to the goddess. Marble walkways that were etched to prevent sliping and curved for rain run off. An established aquaduct, plumbing, latrines turkish baths. It was a great city for 6-800 years and at that time the town had a harbor, which is now 2 miles away. One of the Roman emperors lived there, their Asian empire. The rich had slaves, there was a medical school, a giant ampitheater for drama and a stadium for sporting events. The town was bilingual, Greek and Latin. We were able to stay late and be alone in the site.
Greer loved the stork nests in the middle of the town square on top of 75 ft aquaduct ruins with old Ottoman-style houses in between. We watched "the best sculptor in Turkey" working on a a marble and bronze piece which cast Ataturk's profile on the pavement at noon. We met a record store owner who had promoted concerts in the great amphitheater at Efes. He was pictured with Joan Baez on the wall of his shop when she had cometo perform at Efes.

Ap24-29
Met our car rental man and rove fast, 120kph, to the Izmir airport and flew back to Istanbul hoping for clear weather so we can sail on the Bosphorous with clear skies. Didn't happen though. Istanbul was much warmer than before but still overcast most of the time. The day we left for home was supposed to be clear. We felt much more comfortable this time in this huge, 18 million population city. We toured the underground cistern with its magical columns standing in water, took a day ferry to Anadalu Kavagi near the Black Sea and had a wonderful dinner with our new friend Yuksel Hak and his family. Also saw the small, Sinan mosque that our Godson raved about, the Sokullu Mehmat Pasha and the Turkish Archeological Museum in Topaki and Islamic Art Museum on the Hippodrome. Stayed again in Sultanahmet even closer to the Four Seasons, which starts at about $200 a night. Our hotel was run by a friendly and helpful man and the room had a great view and a shower with a door that closed!
Surprises
Our friends who had visited Turkey even as late as last Summer told us of finding the food great and cheap. We didn't. The breakasts became boring with only white bread, white cheese, salty black olives, cucumbers and hydroponic tomatoes, with an occasional hard boiled egg and Lipton tea. Lunch and dinner were often from the "deli case' as we called it where the "menu" was seen by walking to the deli case and selecting from yogurt and garlic and other dishes prepared a week before. We visited Turkey too early in the season for the fresh foods our friends had mentioned.
Coming from what we call the "baby room" of the Universe in Northern California, we also found it almost impossible to get away from smoke pollution. "Smoking like a Turk" is the expression they used and it's funny mentioning it here, but it adversely affected our daily lives in Turkey. We both had smoker's coughs after a few days. We rented a car to be able to better get away from smoke, but that was another adventure! The rental car smelled like an ashtray and we learned another expression, "driving like a Turk." We handled driving better than the smell.
We also found ourselves a bit amazed at how the country was not user friendly for the independant traveller. The tourist maps we found wee a joke, often not including roads to major archeological sites and were printed so badly to be unusable. We often followed road signs until they simply ended and the adventure began! Big bus tours are the way to avoid this but also miss some of the excitement we found.
Most people see Turkey on a tour and we can now better appreciate how the guided tour takes care of those daily adventures we had, but grew tired of at times as well, like finding locations using misprinted maps and finding quiet pensions.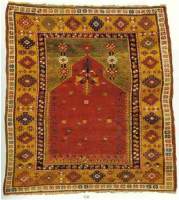 Yes, we bought a rug. A prayer kilim from the Aksaray area. this pictue is not ours, but is close. The experiece took 3 trips and we learned a lot, from the owner who had written the first Kilim book. And the shop was non-smoking!