---
Blue Grid
A Pulsing, Blue LED Light Work by John Watrous


(actual photo detail of blue bottle caps in Champagne rack--the inspiration for art)
---
Up and running at Paradise Ridge Winery on July 14th, 2005 to Feb. 4, 2008
Moved to SRJC Library on March 24, 2009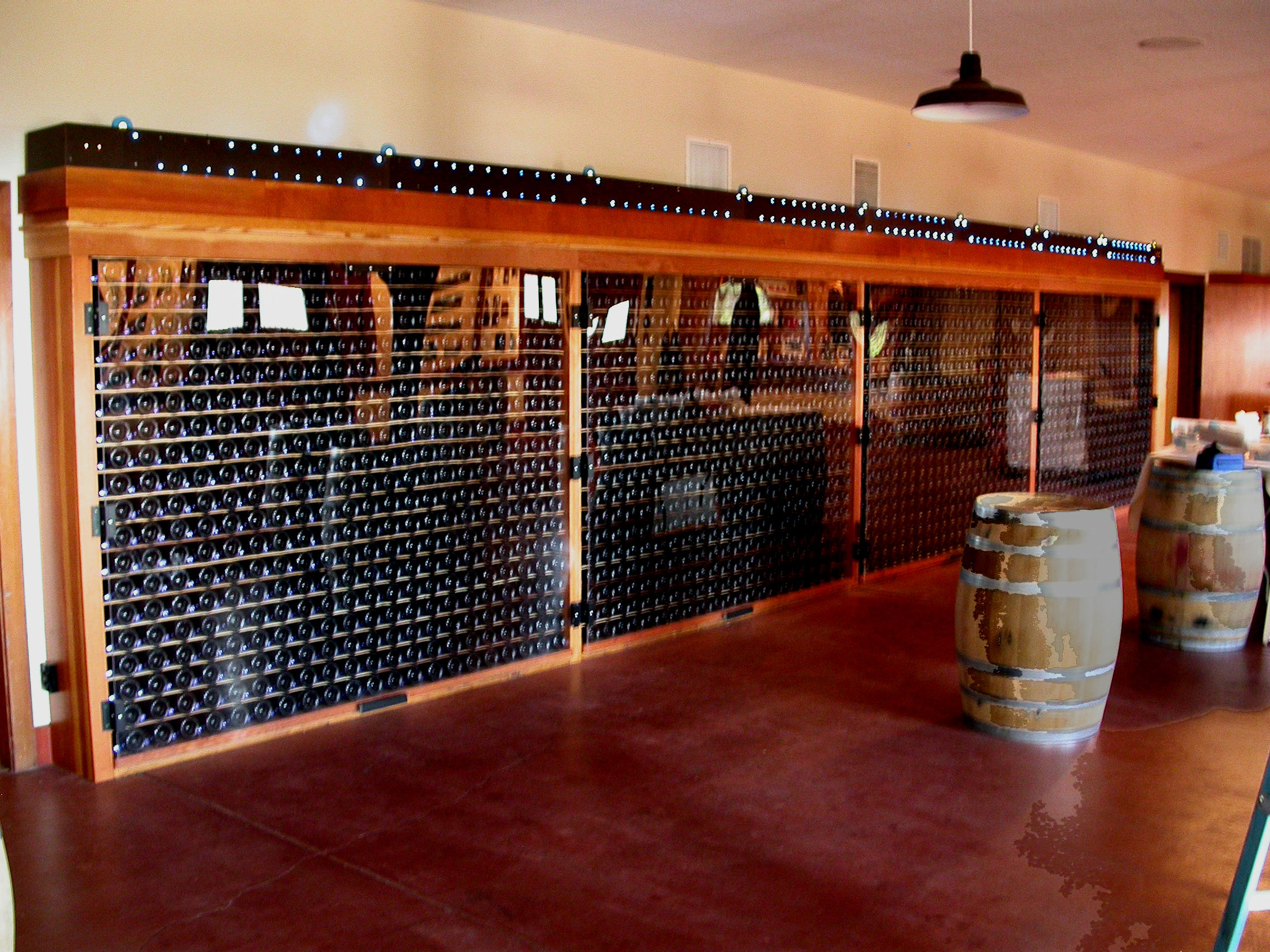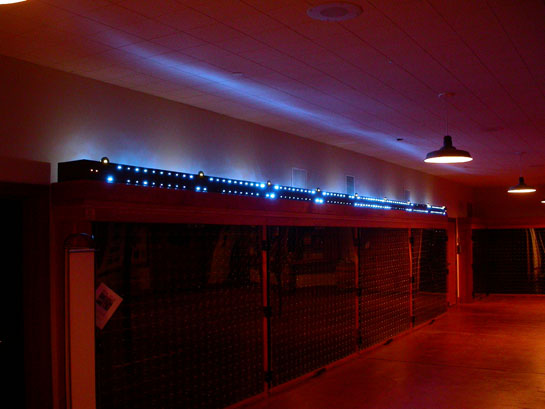 ---
The Process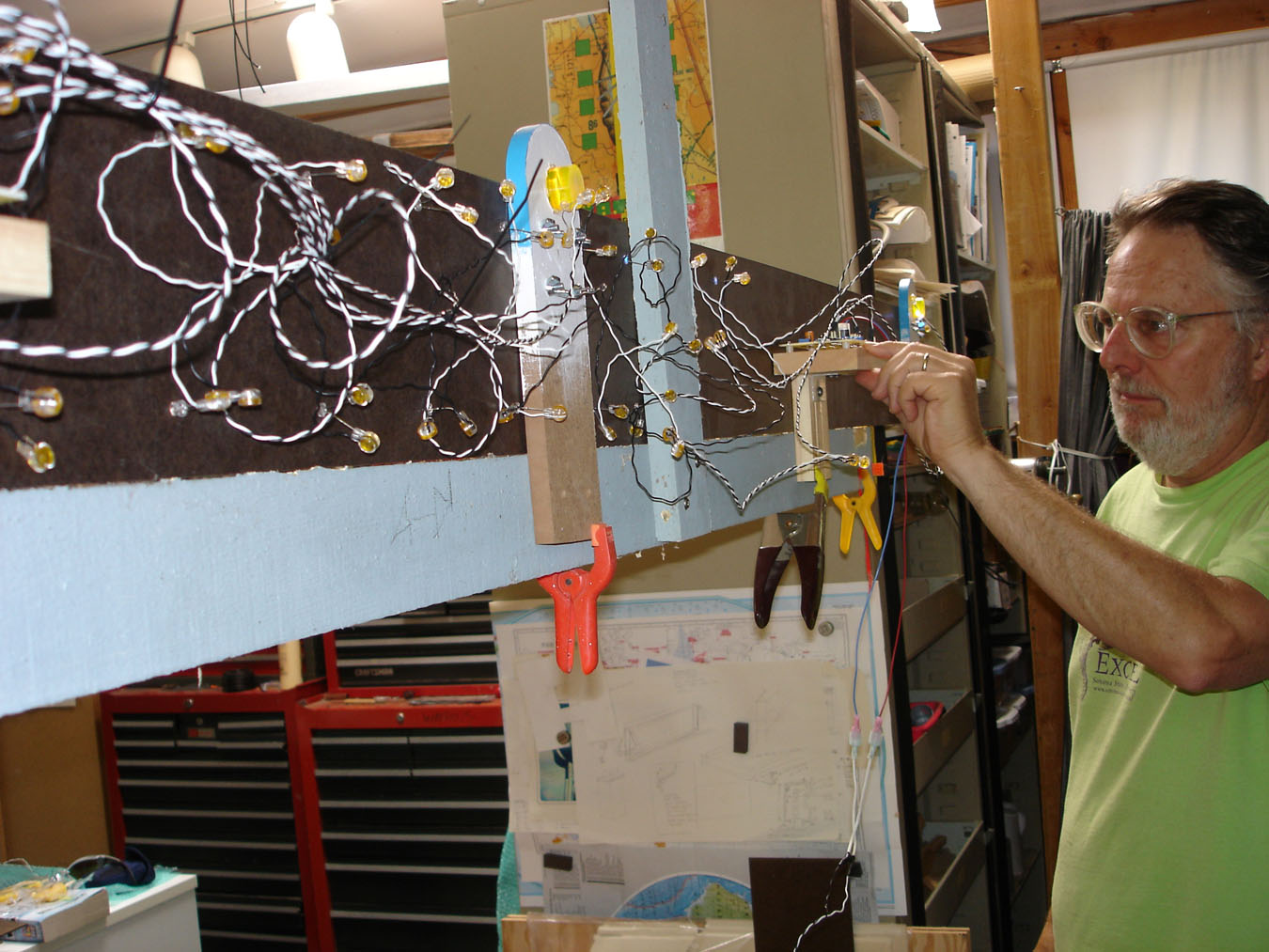 Watrous is building a 32 foot long lighting piece in his studio using over 200 pulsing, blue LED's.

His lighting piece for Paradise Ridge Winerywas made for the "Year of the Sculptor" show there this summer 2005. Here is the Announcement for the sculpture show.

He has more recently connected his electronics background with his art interests and has been making lighted sculpture for some time. John Watrous has been teaching art at Santa Rosa Junior College for 30 years. To see more of his work see his webpage.
---
The Site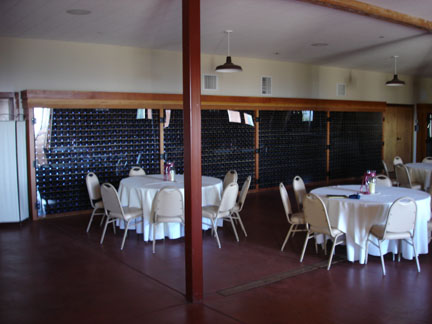 Champagne cellar at Paradise Ridge Winery and the inspiration for the light work.
---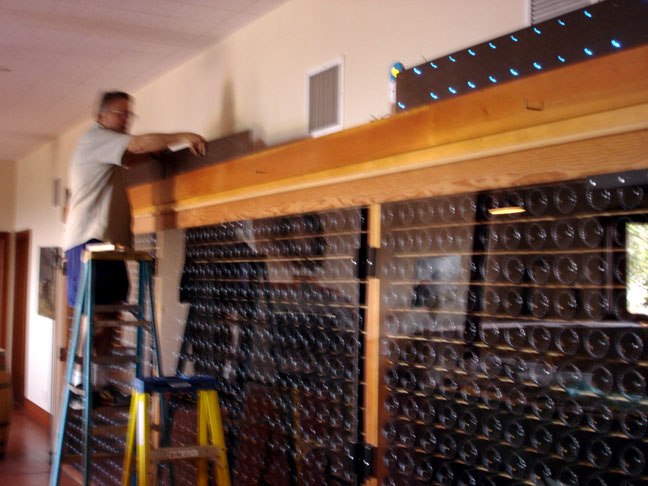 (John installing in July)
---
Printed Circuit Board Layouts

PCB loaded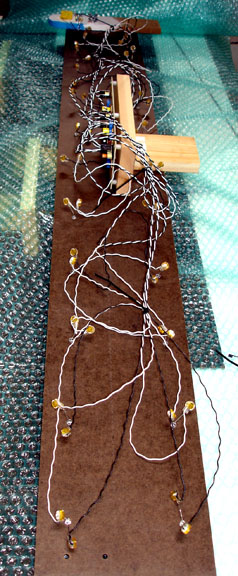 pcb ready for shipment on the last day of June, 2005

---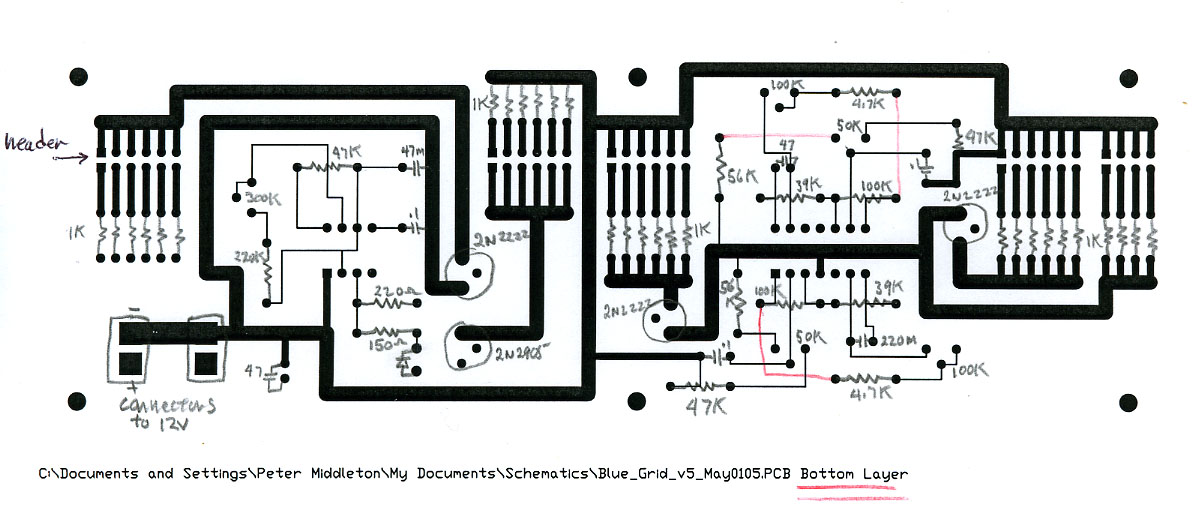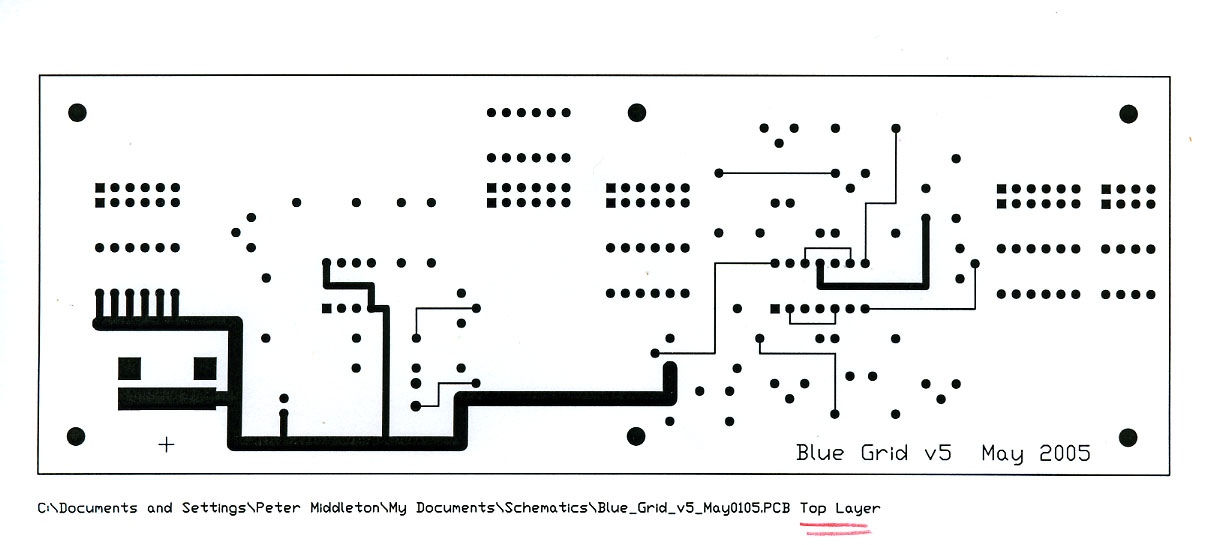 ---
Collaborator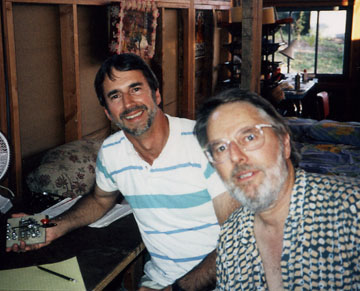 (Peter on the left, John on right)

Watrous and Middleton have a history of buiding electronic equipment. Over forty years ago they both amassed numerous hours during high school designing and building equipment pushing the limits of amateur radio. They are at it once again!

Professor Peter Middleton has been steadily involved with electronics designing and building high end audio equipment related to his teaching in the music department at Northern illinois University. Peter has accepted the challenge of designing printed circuit boards for the piece. His familiarity with PCB design software makes my piece possible.
---
The Technical Process
Watrous is using simple op-amps and timers to build a flexible circuit board to flash and pulse LED's at slow, controllable rates.
He decided to experiment with op-amps and timers insead of more complex programable arrays. The LM555 timer and the LM324 op amps (used as a 2-op-amp triangle-wave generator)were chosen because of the many circuits available which could be modified for light-timing use.
Printed Circuit Board Burn in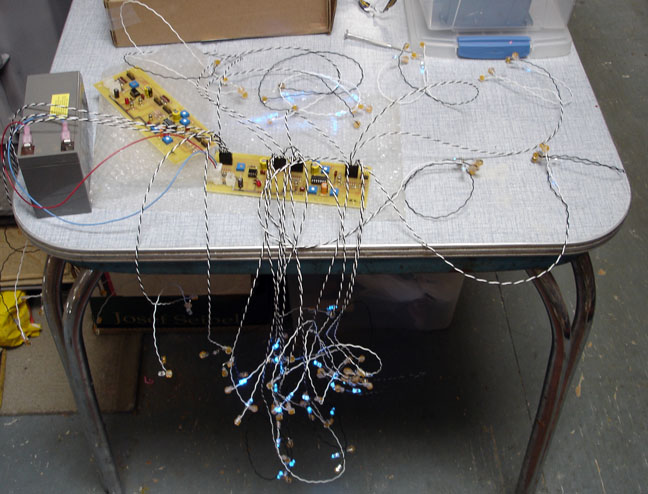 ---
Header System
Thanks to my friend Ed Stutz, artist and engineer, for the 100, 2 pin headers got connected to the lengths of 24AWG wire speeding up my job of assembling all the parts of this project.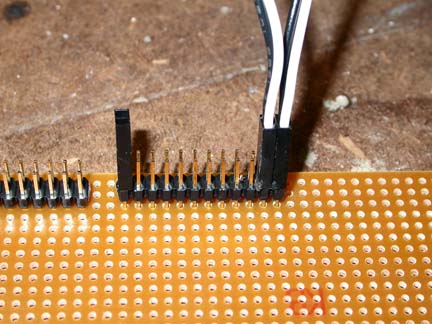 ---
Resources
2 Pin header plugs mounted into standard PCB headers provide for many possible combinations of lighting. This same header system was used in Watrous' 2001 show for white LED fixtures.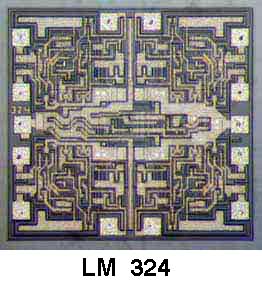 The LM555 timer output will provide 2, unique, slow flash rates and the LM324 will provide 2, adjustable pulse rates. Each PCB will have the capability of powering 2 four foot lighting panels, but will probably just power one giving some overhead. Each pair of the 192 LED's having four possible states. Lighting construction will consist of 4 foot by 6 inch units each connected with a lighted, yellow fluorencent 1 inch rod.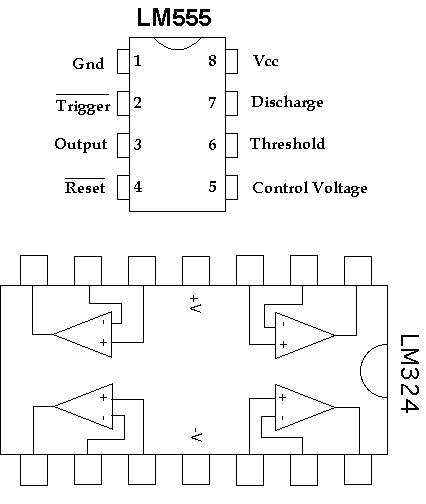 ---
---
---
Other work by Watrous
---
last update: 25Mar2009
john@jwatrous.org